Webinar: Upgrade Your Chiller Plant for the Future
Thursday, June 17, 2021 (11:00 AM - 12:00 PM) (CDT)
Description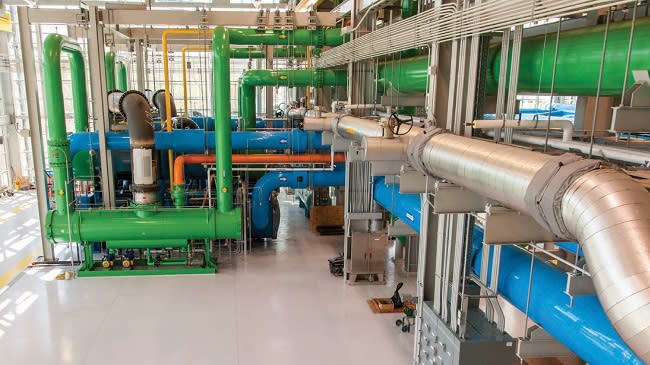 Upgrade Your Chiller Plant for the Future
Hosted by ESD (2021 Education Partner)
Free Member Webinar!
June 17 from 11AM to 12PM CST
The webinar link will be emailed to attendees one hour before the start of the event.
Join ESD, a 2021 Education Partner, for a free webinar on June 17 to learn about the nuts and bolts of refrigerants. Experts will discuss what refrigerants are and the impact they have on your building and climate change. You will learn how you can replace legacy refrigerants with modern, low GWP (Global Warming Potential) refrigerant. ESD will also review the recent federal legislation that will change the industry in the near future and a case study of the CME Center. Financing will also be discussed.
Speakers
Andrew Lehrer, Practice Leader of High Performance Buildings at ESD
Andrew Lehrer has been with ESD for 19 years. Currently serving as the practice leader for the firm's High Performance Buildings group, he focuses on life sciences, major real estate asset repositioning/adaptive reuse, corporate headquarters, and high-rise markets. Andrew is passionate about delivering sustainable, fit-for-purpose solutions for his clients and encourages his team to innovate new systems and tools on its projects. He is a Member of the ACE Mentor Chicago Executive Board and Washington University in St Louis School of Mechanical Engineering and Materials Science Advisory Board.
David Doniger, Senior Strategic Director of the Climate & Clean Energy Program
David Doniger has been at the forefront of the battle against air pollution and global climate change since he joined NRDC in 1978. He helped formulate the Montreal Protocol, an international agreement designed to stop the depletion of the earth's ozone layer, as well as several essential amendments to the Clean Air Act. In 1993, he left NRDC to serve on the White House Council on Environmental Quality, followed by key posts at the U.S. Environmental Protection Agency. He rejoined NRDC in 2001 and has since been working to defend the Clean Air Act from assaults in Congress. He is based in Washington, D.C.
Pricing
Free Members Only Webinar.
Online Zoom Webinar

Event Contact
Diana Zamora
Thursday, June 17, 2021 (11:00 AM - 12:00 PM) (CDT)