Description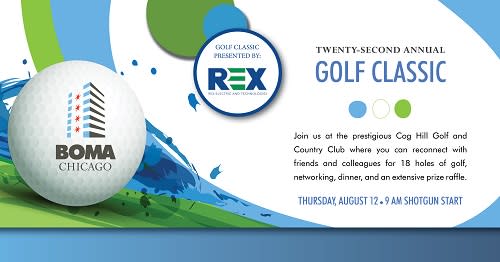 Registration closed. Contact Diana Zamora or Paul Jost with questions.
Join us at Cog Hill Golf and Country Club, Thursday, August 12th! Exclusive Event for BOMA/Chicago Affiliate and Building Members.

Limit 2 foursomes per company/building until August 1st.
Foursomes Available on Courses 1 and 3 for $1,100 - Sold Out
All-inclusive tickets provide unlimited breakfast, lunch, dinner and beverages along with 18 holes of golf
Amazing raffle prizes in excess of $10,000
Breakfast starts at 7 am; Shotgun start at 9 am
Dinner & Drinks for $125
If you don't golf or you're only available for dinner, join us at 2 pm for dinner and drinks.

2021 Golf Classic Sponsorships - Closed
There's still time to purchase a sponsorship! Review the Golf Classic Sponsorship Prospectus and choose the one that best suits your company's needs.
Donate an item to the Golf Classic Goody Bag which will feature exciting options such as sunscreen, beer koozies, golf tees and more.
Customize or create your own sponsorship. Contact Paul Jost for more information at 312-870-9609 or via email at pjost@bomachicago.org.
Contact Us
If you have any questions about the Classic, sponsorships or foursomes, contact Paul Jost at 312-870-9609 or via email at pjost@bomachicago.org.
*Foursome reservations are nonrefundable.

THANK YOU TO OUR GOLF CLASSIC SPONSORS!