ESG Certificate Class: Sustainable Success For Tenants, Owners & You!
Thursday, October 12, 2023 (8:00 AM - 5:00 PM) (CDT)
Description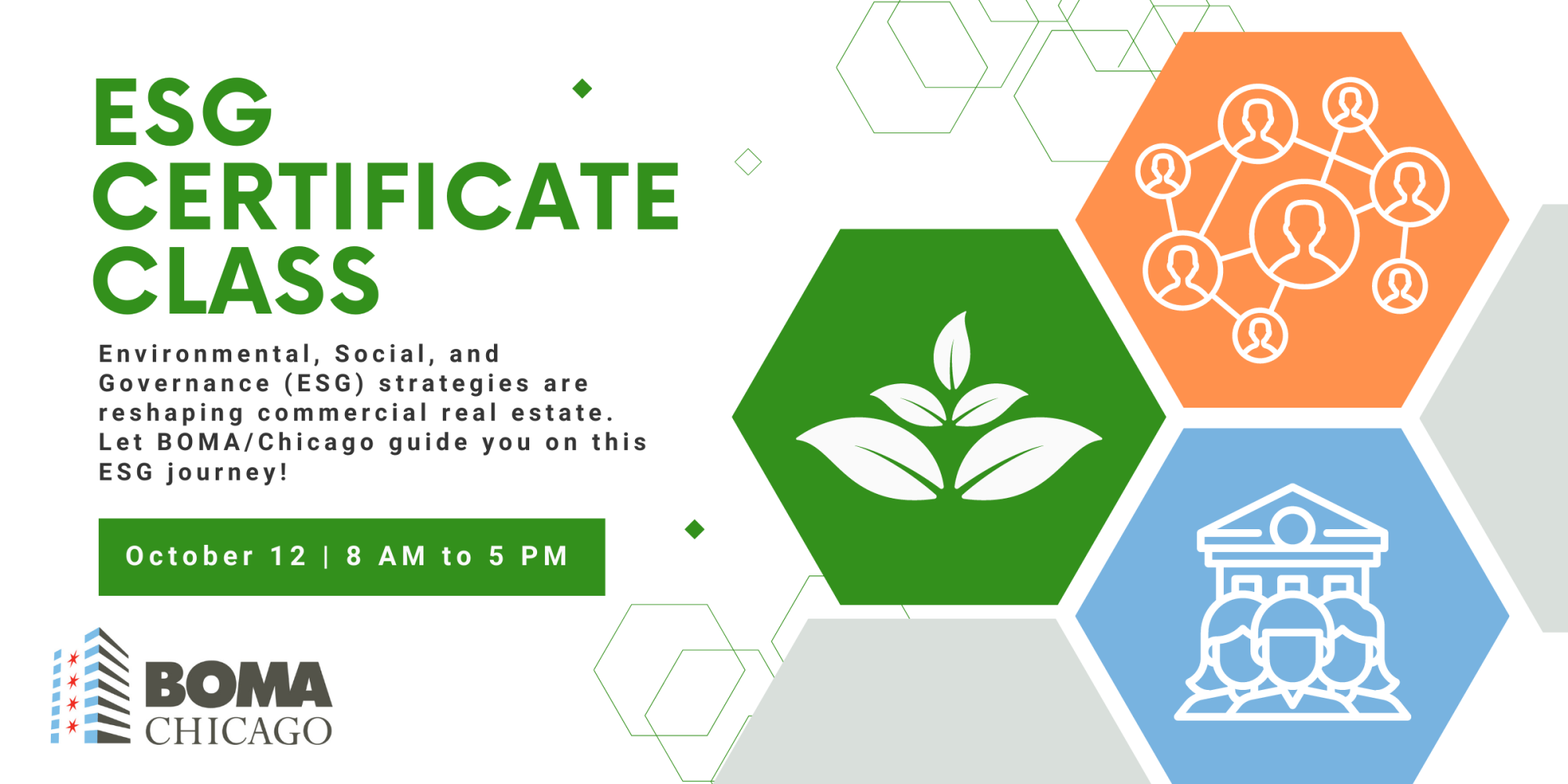 ESG Certificate Class: Sustainable Success For Tenants, Owners & You!
October 12, 2023 from 8AM to 5PM
In-Person Class at 311 South Wacker Conference Center
Instructed by Dave Pogue, ESG Director at RiverRock Real Estate Group and David DeVos (Lasalle Investment Management)
$570 Members; $700 Non-Member
Thank you to Zeller and 311 South Wacker for donating the conference space for this program!
Environmental, Social, and Governance (ESG) strategies are reshaping commercial real estate. Are you and your team equipped with the essential ESG knowledge to ensure both short and long-term success for your building? Can you effectively track, measure, and communicate ESG strategies and outcomes to investors and tenants?
Let BOMA/Chicago guide you on this ESG journey!
Chicago CRE leaders take pride in being on the forefront of progress – and that is why we are proud to be the first BOMA local in the country to offer the BOMI International ESG class. Led by ESG expert, Dave Pogue from RiverRock Realty, we will dive into four core ESD areas: 🍃 Decarbonization 🌐 Resilience 💚 Health and Well-Being 🌈 Diversity, Equity & Inclusion
Upon completion of this class, you will be among the first in the country to receive the ESG certificate! Register now and invest in your building, your career, and the future of sustainable real estate.
*NOTE: BOMA/Chicago is offering this class at a discounted rate. The majority of the class will involve watching video content, alongside facilitated discussions.
By attending the ESG Certificate Class, you will:
Build an ESG network with your Chicago peers.
Identify the significance of ESG initiatives and their impact on the industry.
Explain the role of carbon reduction, benchmarking, and reporting frameworks for corporations, portfolios, and individual assets.
Discuss the importance of human and social capital in relation to health, well-being, and diversity, equity, and inclusion.
Understand regulations and policies relevant to ESG practices.
Outline the steps involved in decarbonization efforts.
Instructor Bio
Dave Pogue, ESG Director at RiverRock Real Estate Group
Dave Pogue is the ESG Director for RiverRock Real Estate Group, Inc., a West Coast-based commercial real estate service firm headquartered in Newport Beach, California. In his capacity, Dave is responsible for overseeing the firm's sustainability and Environmental Social and Governance (ESG) efforts.
Dave's high profile career has spanned 45 years and has included positions including the Global Director of Corporate Responsibility and Global Director of Sustainability for CBRE. In those roles, Dave was responsible for the development, implementation and reporting of all corporate social responsibility performance.
His leadership produced an award-winning sustainability platform leveraging thought leadership, service delivery and industry associations to raise worldwide green building standards. Program achievements included development of a $1 million Real Green Research Challenge; delivery of co-branded BOMA BEEP training program to more than 30,000 attendees; and recognition as the first manager of commercial property to certify more than 1,000 buildings in the LEED® for Existing Buildings rating system.
Pricing
Member: $570
Non-member: $700
In-Person Only: 311 S Wacker Conference Center
311 S Wacker Dr.



Chicago

,

60606



Thursday, October 12, 2023 (8:00 AM - 5:00 PM) (CDT)
Instructor: Dave Pogue, ESG Director at RiverRock Real Estate Group