Insider's Guide to Facilitating Building Projects
Wednesday, September 6, 2023 (9:00 AM - 12:00 PM) (CDT)
Description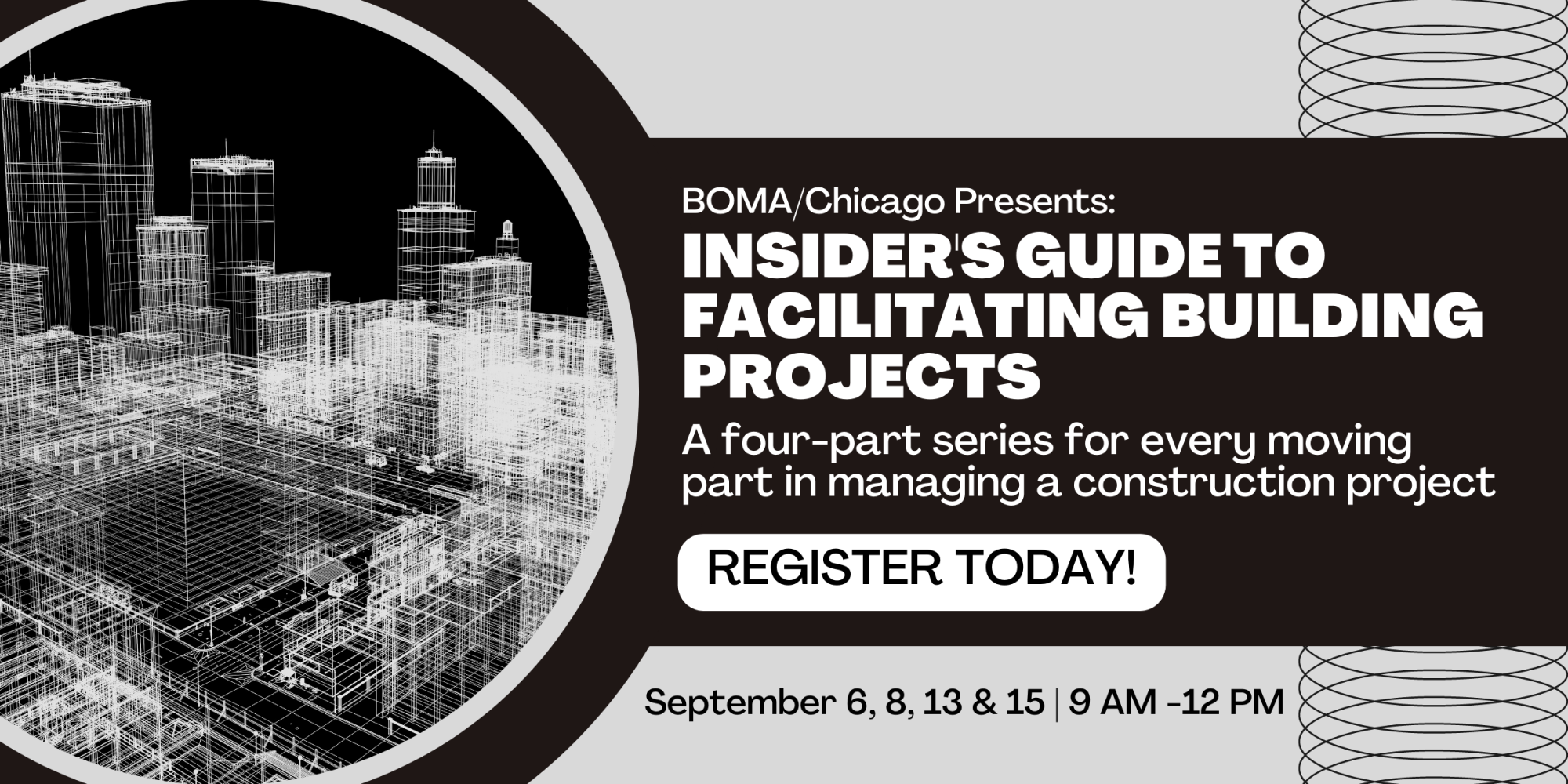 Insider's Guide to Facilitating Building Projects
September 6, 8, 13 & 15 from 9AM to 12PM CST
Instructors: Chris Downes (Burnham Nationwide), Ryan Grommes (RLE Partners), Joe Hynes (JC Anderson), John King (Irvine Company) and Michael Semenzin (MRSA Architects)
Location: In-Person Only at 115 South LaSalle
BOMA/Chicago Member: $550 | Non-Member: $700
Earn Up to 12 RPA Designation CPD Credits!
Managing construction projects, from small to large, involves many moving parts. If problems arise during projects, the consequences could be expensive and lengthen the project timeline.
The Insider's Guide to Facilitating Building Projects is a four-part series that will discuss the construction project process from start to finish, how construction pricing is determined and what you can do to avoid costly mistakes. View the full class outline here.
Various project types will be discussed, including major and minor tenant improvement and R&M projects. Our expert instructors will review the RFP and permitting processes, bid leveling, contract types, project close out and more.
This series will also review the role of your project partners. You will learn how project managers and partners play an essential part in the construction project's success and how to approach your owner about the value of these partners.
INSTRUCTORS
Chris Downes, Managing Director at Burnham Nationwide
Mr. Downes is Burnham Nationwide's Managing Director and oversees its project management and code divisions. Beginning his career at Burnham in 2000, Mr. Downes has coordinated thousands of permits and approvals. He advises clients on permit expediting strategy for diverse projects, including new high-rises, tenant improvements, large assembly venues, historic landmarks, and unique projects. Given his many years interfacing with the Chicago Department of Buildings and other City of Chicago agencies, Mr. Downes is an expert in Chicago building permit and approval requirements. He regularly assists clients with navigating Chicago's complex and ever-changing codes.
Ryan Grommes, Partner at RLE Partners
Ryan is a founding partner of RL Edward Partners. Ryan is a dynamic construction executive with twenty years of experience as a general contractor, developer, and owner's representative. Ryan has held various positions in the industry with one of the largest General Contractors and one of the largest publicly traded REIT's in the Country. Ryan has experience in several construction and development departments including preconstruction, project management, scheduling, cost engineering, and executive committee.
Joe Hynes, Project Executive at JC Anderson
Mr. Hynes has over 25 years of real estate experience with an extensive background in property, project and portfolio management. He leads the Building Services Group which includes all aspects of office interiors construction. Prior to working at JC Anderson, Mr. Hynes worked at Jones Lang LaSalle for 17 years where he worked on a variety of real estate portfolios which included office, retail and industrial properties across North America.
John King, Director of Portfolio Operations at the Irvine Company
John is a 25-year real estate professional and runs all operational aspects at The Old Post Office, a 2.3 million square foot Class A Office building in Chicago, IL and is the General Manager at 801 South Canal, a 600,000 RSF redevelopment. Prior to working at the Old Post Office, John worked as a Property Manager at Prudential Plaza was involved in over 150 Building and Tenant Improvement projects over a twelve- year period. John was also responsible for overseeing two LEED Gold Certifications for the building. Prior to working in property management, John worked as a property accountant for 4 years with additional experience is accounts payable, accounts receivable and fixed assets.
Michael Semenzin, Partner at Racer/MRSA Design Studio
Michael Semenzin is a Partner at Racer/MRSA Design Studio and a graduate of the Illinois Institute of Technology. Licensed in 8 states, with over 35 years of experience in design and architecture, Michael has been involved with a wide range of project types including office, industrial, manufacturing, retail and biotech projects. Michael is a member of both BOMA's Codes and Education Committees, and is also a board member of the West Central Association. Some of you may remember Michael as a guest speaker for BOMA/Chicago's RPA Design Ops Part I class. Michael is also an instructor for BOMA/Chicago's Construction Drawing Series and was a presenter of BOMA/Chicago's Life Science Roundtable in November 2022.
Pricing
Member: $550
Non-member: $700
In-Person Only: 115 South LaSalle

Wednesday, September 6, 2023 (9:00 AM - 12:00 PM) (CDT)
Class Dates: September 6, 8, 13, and 15
Instructors: Chris Downes, Burnham Nationwide; Joe Hynes, JC Anderson; John King, JLL; Michael Semenzin, MRSA Architects & Ryan Grommes (RLE Partners)