Life Science Roundtable, Tour & Happy Hour
Thursday, November 10, 2022 (2:00 PM - 6:30 PM) (CST)
Description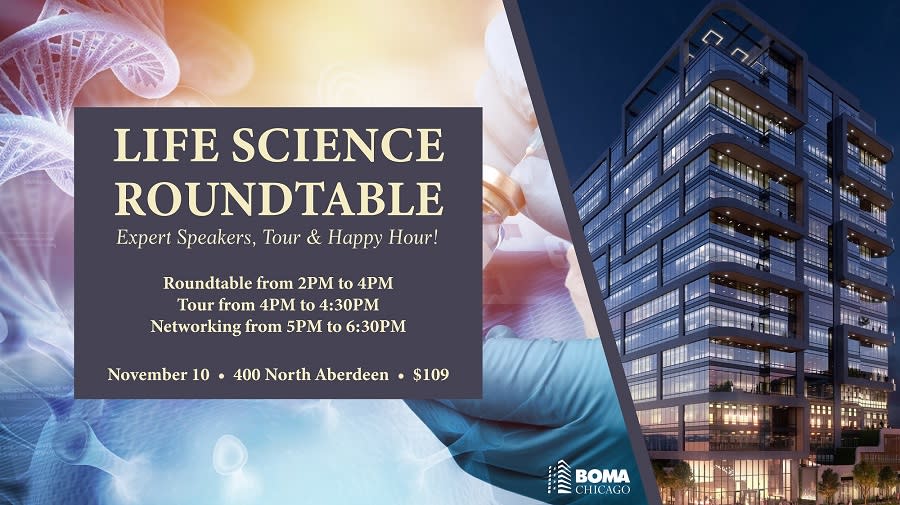 SOLD OUT! Life Science Roundtable
Expert Panel, Tour & Happy Hour
November 10 from 2PM to 6:30PM
400 North Aberdeen
Member Price: $109
Non-Member Price: $139
We are sold out! Contact jmadden@bomachicago.org with questions.
Is managing a life science building in your future? Do you want to learn more about the life science sector and take an exclusive tour in one of Chicago's own life science buildings?
Join us at the November 10 Life Science Roundtable to learn about this emerging market and to get an insider's look at 400 North Aberdeen! The roundtable and tour will be followed by a happy hour at Tabu (401 North Morgan).
The pandemic accelerated medical innovations, and as a result, investments in lab space and life science firms have reached historic highs. And we are witnessing the evolution of the life science sector here in Chicago. New buildings specifically for biotech are in development, while others are in the process of redesign and retrofit to accommodate life science tenants.
During the roundtable, our experts will give their insights into the emerging sector and answer the following:
What is a life sciences space?
How does the life science subsector in Chicago compare to other cities?
How are life science buildings funded?
How do you build or retrofit a building in Chicago for life science use?
What should be considered when building a life science space?
What amenities are important to life science tenants?
What are the similarities and differences between managing a commercial property versus a life science building?
How are leases and security considerations different when managing a commercial property?
What does a life science space look like? You will be able to take a tour and find out!
Our experienced speakers include:
Michael Semenzin, MRSA Architects
Andrew Lehrer, ESD Global
Connie Brusca McDonagh, CBRE

Roundtable Timeline
2PM to 4PM: Roundtable
4PM to 4:30PM: Tour of the Building and Tenant Space
5PM to 6:30PM: Drinks, Food & Networking at Tabu (included in ticket price)
Member Price: $109
Non-Member Price: $139

Tour Description
Fulton Labs at 400 N. Aberdeen is a remarkable combination of innovative R&D lab space, infrastructure and business amenities to optimize discovery. At roughly 420,000 square feet, the tower includes specialized floors with a hybrid of offices and lab spaces. The 34,000-square-foot floor plates are designed for both flexibility and customizability, with column-free layouts, 15-foot-high floor-to-floor spacing, and 56-foot-long width spans. Office windows also integrate a smart-tinted glass that allows for dimming depending on the position of the sun or customized tenant preferences. Two private balconies also occupy each office level, with views facing both east and west. There are many other amazing features of the building that you will see when you tour the space on November 10!
Speakers
Andrew Lehrer PE, LEED AP, Practice Leader of High Performance Buildings at ESD
Andrew Lehrer leads ESD's High Performance Buildings group. He focuses on life sciences, major real estate asset repositioning/adaptive reuse, corporate headquarters, and high-rise markets. Andrew is passionate about delivering sustainable, fit-for-purpose solutions for his clients and encourages his team to innovate new systems and tools for its projects. He is a licensed Professional Engineer in Illinois and California, an Executive Board Member of ACE Mentor Chicago, and a long-time member of ASHRAE.
Connie Brusca McDonagh, RPA®, LEED AP® O+M, Senior Real Estate Manager at CBRE
Connie Brusca McDonagh is a General Manager at CBRE for the Trammell Crow Company portfolio which consists of Bio Life Science buildings. Current responsibilities include operations, construction management, financial reporting, budgets for both Operations and Capital. Previously a scientist for infertility clinics at the University of Michigan and University of Chicago, Connie offers a unique perspective and skill set. Connie brings construction management, capital improvement planning, strong tenant relations and property knowledge and experience to her clients.
Michael Semenzin, Principal at MRSA Architects
Michael Semenzin is a Principal of MRSA Architects and a graduate of the Illinois Institute of Technology. Licensed in 7 states, with over 30 years of experience in design and architecture, Michael has been involved with a wide range of project types including office, industrial, manufacturing, retail and biotech projects. Michael is a member of both BOMA/Chicago's Codes and Education Committees and is also a board member of the West Central Association. Michael is a guest speaker for BOMA/Chicago's RPA Design Ops Course and is a teacher for the Construction Drawing Series and the Building Projects Series.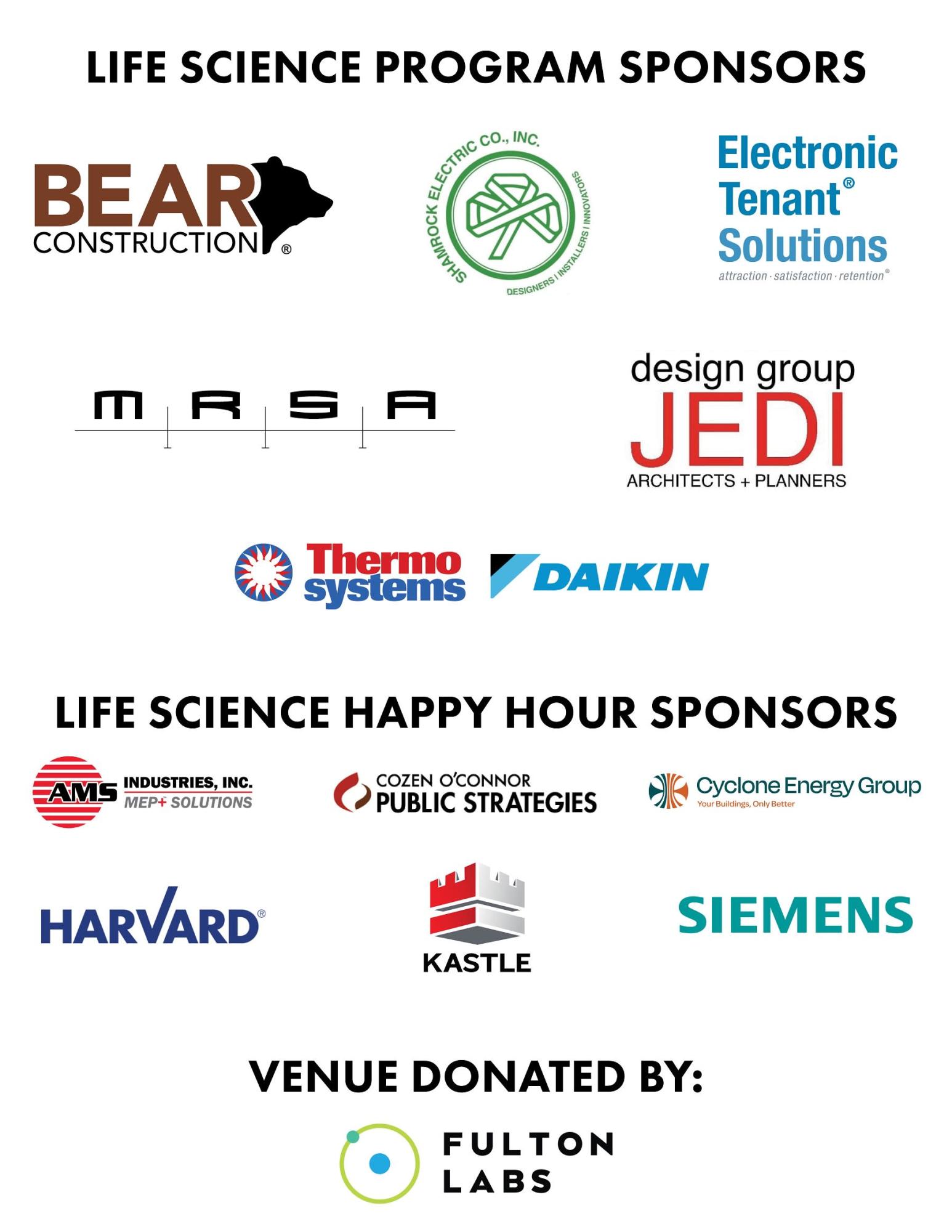 Pricing
Member: $109
Non-Member: $139
400 North Aberdeen
400 N. Aberdeen St.



Chicago

,

60642



Thursday, November 10, 2022 (2:00 PM - 6:30 PM) (CST)

2 pm-4 pm: Rountable

4 pm- 4:30 pm: Tour of the Building and Tenant Space

5 pm-6:30 pm: Drinks & Networking at Local Restaurant (included in price)
Categories
Seminar
Education