RPA Course: Budgeting and Accounting
Tuesday, March 7, 2023 4:00 PM - Thursday, March 23, 2023 7:00 PM (CST)
Description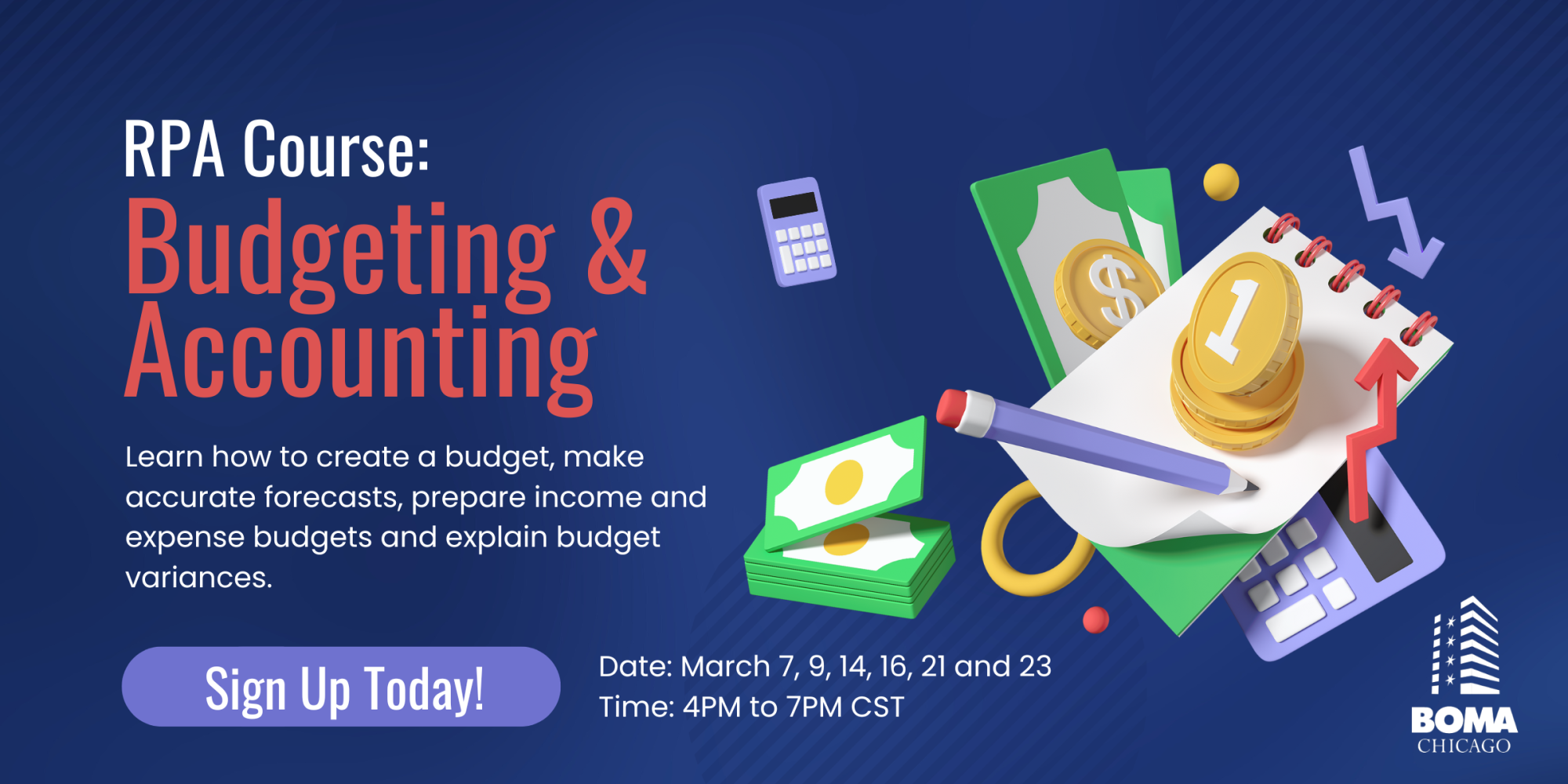 Budgeting & Accounting
Required RPA Course
March 7, 9, 14, 16, 21 and 23 from 4PM to 7PM CST
Instructed by Karen Stiansen, JLL
Virtual Class Only (Zoom)
$1,290 Members | $1,515 Non-Members
Budgeting and Accounting is a required course in the RPA designation program that teaches students how to create a budget, make accurate forecasts, prepare income and expense budgets and explain budget variances. Case studies during the course will provide realistic illustrations of budgeting and accounting scenarios encountered in the day-to-day operations of commercial real estate properties. Other topics include: record-keeping requirements, revenue and expenditure cycles, lease abstracts, income and expense budgeting, working with capital, financial statements, annual reports, statements of cash flow and more.
By taking this course, students will learn how to:
Identify potential opportunities for increasing a property's net operating income.
Determine recoverable and nonrecoverable operating expenses.
Establish cost controls and prioritize capital expenditures.
Explain budget variances to stakeholders.
Follow best practices in tenant communications.
Analyze and interpret financial statements of prospective tenants.
Pricing
Member: $1,290
Non-member: $1,515
Designation Enrollment: $225
Virtual via Zoom

Tuesday, March 7, 2023 4:00 PM - Thursday, March 23, 2023 7:00 PM (CST)

Class will be held on the following dates: March 7, 9, 14, 16, 21 and 23
Instructor: Karen Stiansen, JLL
Categories
RPA/FMA Course
Sponsorship Opportunities
Set the stage for your own successful business development strategy as a BOMA/Chicago sponsor. Offering a variety of social and networking events each year, BOMA/Chicago gatherings truly embody one of our greatest strengths: the strong sense of community and collaboration between our Building and Affiliate Members. Learn more by downloading our 2022 BOMA/Chicago Sponsorship Prospectus.