RPA/FMA Course: Design, Operation and Maintenance of Building Systems Part 2
Tuesday, September 12, 2023 (4:00 PM - 7:00 PM) (CDT)
Description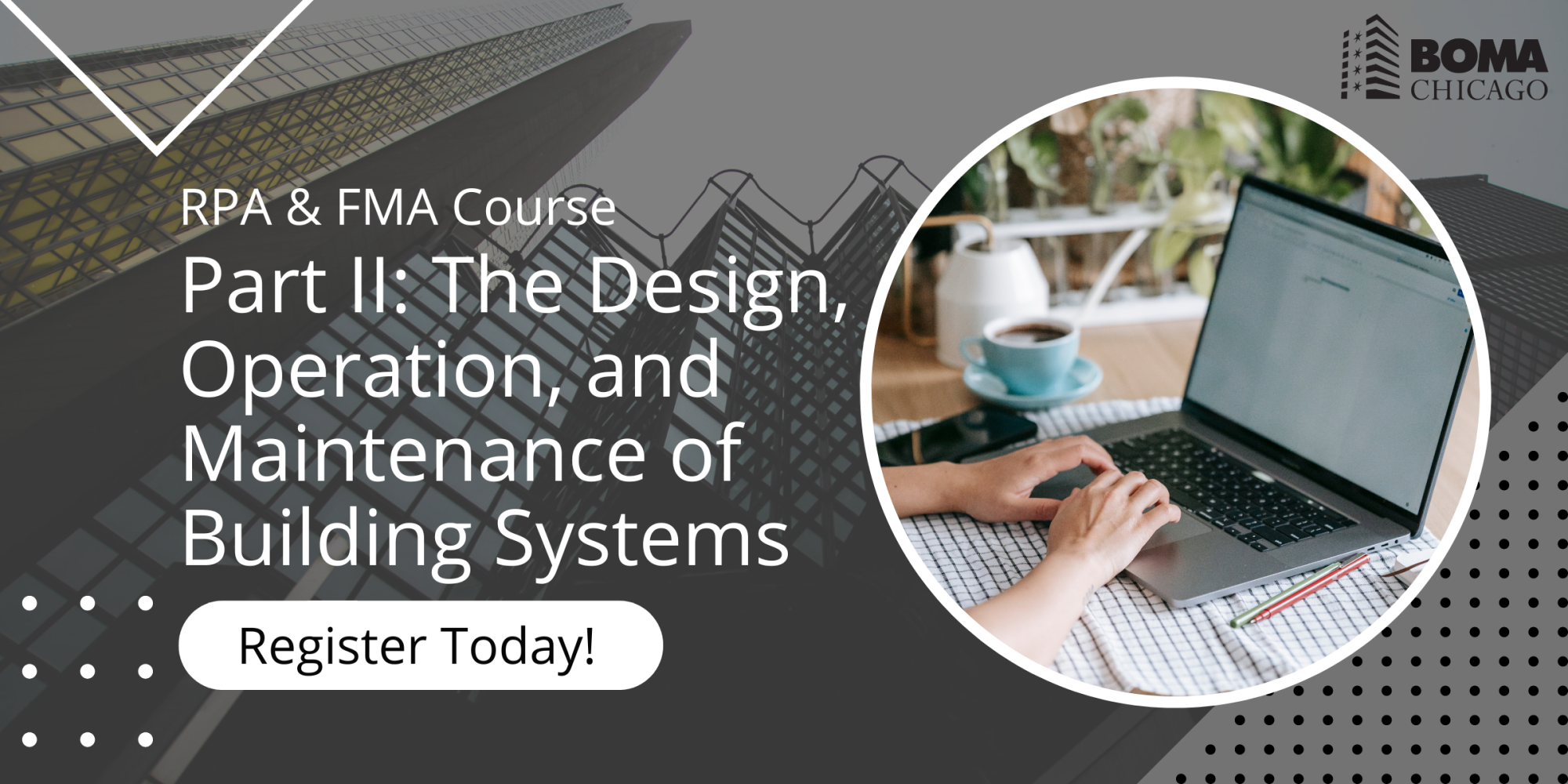 The Design, Operation, and Maintenance of Building Systems (Part II)
Required RPA &FMA Course
September 12, 14, 19, 21, 26 and 28 from 4PM to 7PM CST
Instructed by Bonnie Boden, Transwestern & Bob DeMarke
Hybrid Class (In-Person and Virtually)
$1,290 Members | $1,515 Non-Members
All classes will be recorded. If you miss a class, you can watch the recording.
Students can take Design Ops Part I and Part II in any order.
Design Ops II is a required course for the RPA and FMA designations. This class provides information property and facility managers must have to increase occupant safety and comfort while facilitating building efficiency to meet the business goals of an organization.
Key topic areas include: security, fire protection systems, electricity, energy management, pest control, solid waste management, vertical transportation systems, lighting systems, window cleaning, architectural maintenance, landscaping, parking and more.
The learning objectives for this course are:
Effectively analyze, manage and optimize building systems
Identify opportunities to increase the efficiency of building systems
Understand the successful management of pests, solid wastes, energy and security and life-safety systems
Evaluate and implement best practices for increasing occupant safety and comfort
Pricing
Member: $1.290
Non-member: $1,515
Designation Enrollment: $225
Hybrid: Virtual or In-Person
115 S. LaSalle St. 8th Fl, Rm 806



Chicago

,

60603



Tuesday, September 12, 2023 (4:00 PM - 7:00 PM) (CDT)

Class will be held on the following dates: September 12, 14, 19, 21, 26 and 28
Instructors: Bonnie Boden, Transwestern; Bob DeMarke
Categories
RPA/FMA Course