RPA/FMA Course: Environmental Health and Safety Issues
Tuesday, April 25, 2023 (9:00 AM - 1:00 PM) (CDT)
Description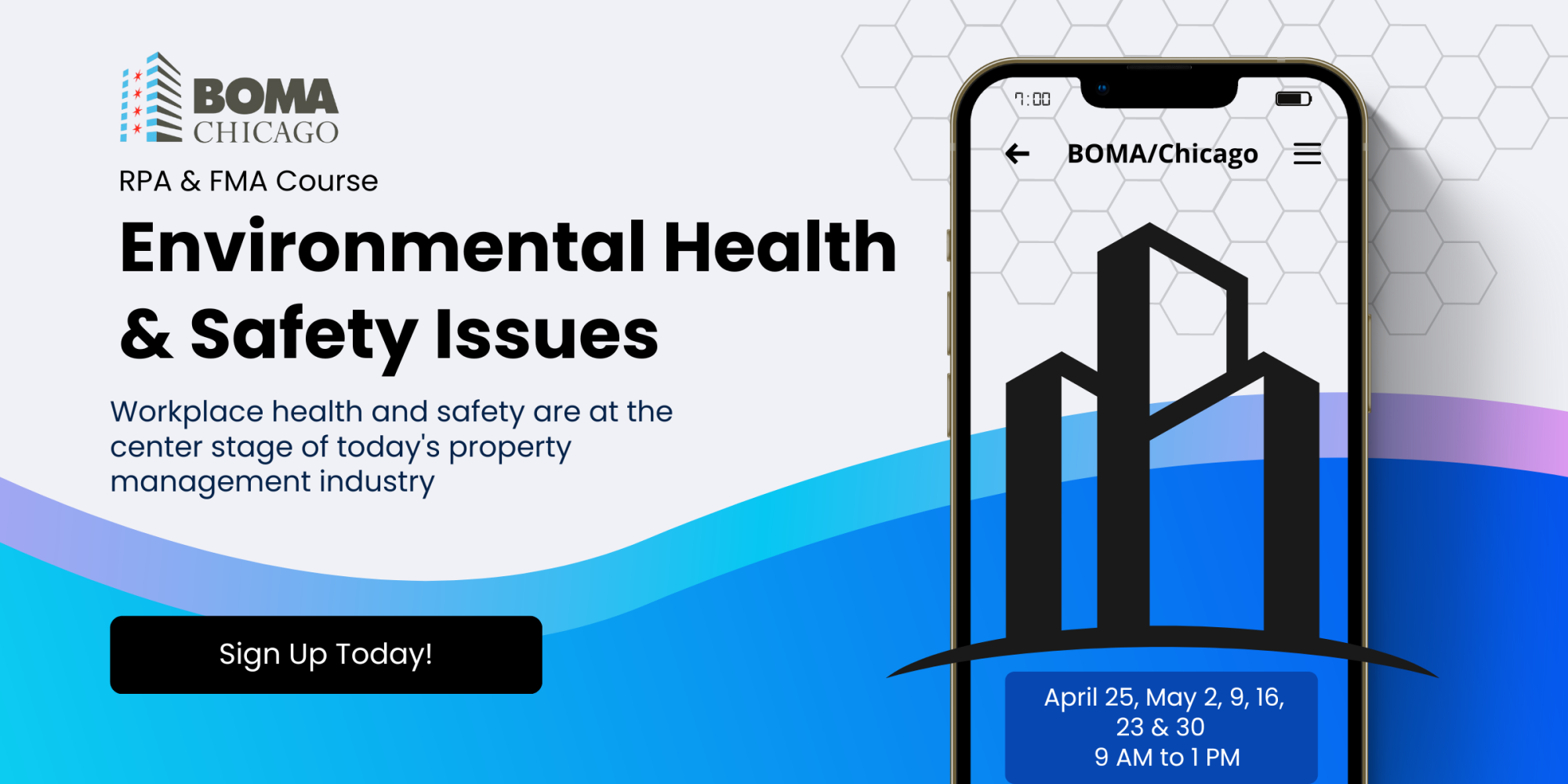 Environmental Health and Safety Issues
Required RPA & FMA Course
April 25 & May 2, 9, 16, 23 & 30 from 9AM to 1PM CST
Instructed by Becky Hanner, Commercial Asset Services & BOMA Fellow
Virtual Only Class
All classes will be recorded. If you miss a class, you can watch the recording.
$1,290 Members | $1,515 Non-Members
Ensuring workplace and employee health and safety are issues at the center stage of today's property management industry. The RPA/FMA Environmental Health and Safety Issues class will teach students how to develop and manage proactive environmental/occupational health and safety programs, comply with regulatory standards and guidelines and assess when to obtain technical assistance. Topics will include local, state, and federal regulations, environmental site assessments, hazard communication, emergency response, asbestos and lead management, ergonomics, indoor air quality, hazardous waste, ADA, EPA, OSHA and more.
By taking this course, students will learn how to:
Develop and manage an effective environmental health and safety program, integrating sustainable best practices wherever appropriate.
Ensure that your facilities are in compliance with Federal, state and local regulatory mandates.
Assess environmental risk factors and prepare for compliance audits.
Address emergency environmental health situations through proper planning and incident response.
Maintain health and safety records in accordance with industry best practices.
Manage indoor environmental quality complaints related to air, water, mold, radon, asbestos and other environmental hazards.
Execute appropriate record keeping, reporting and other requirements associated with aboveground and underground storage tank regulations.
Design and implement a waste management program, including recycling and disposal of all forms of waste including landfills waste, hazardous waste, universal, electronic and tenant-generated waste.
Pricing
Member: $1.290
Non-member: $1,515
Designation Enrollment: $225
Virtual via Zoom

Tuesday, April 25, 2023 (9:00 AM - 1:00 PM) (CDT)

Class will be held on the following dates: April 25. May 2, 9, 16, 23, 30
Instructor: BOMA Fellow, Becky Hanner, Commercial Asset Services
Categories
RPA/FMA Course