Two-Part Virtual Course: Survive & Thrive During Your 2024 Budgeting Season
Monday, May 22, 2023 (9:00 AM - 12:00 PM) (CDT)
Description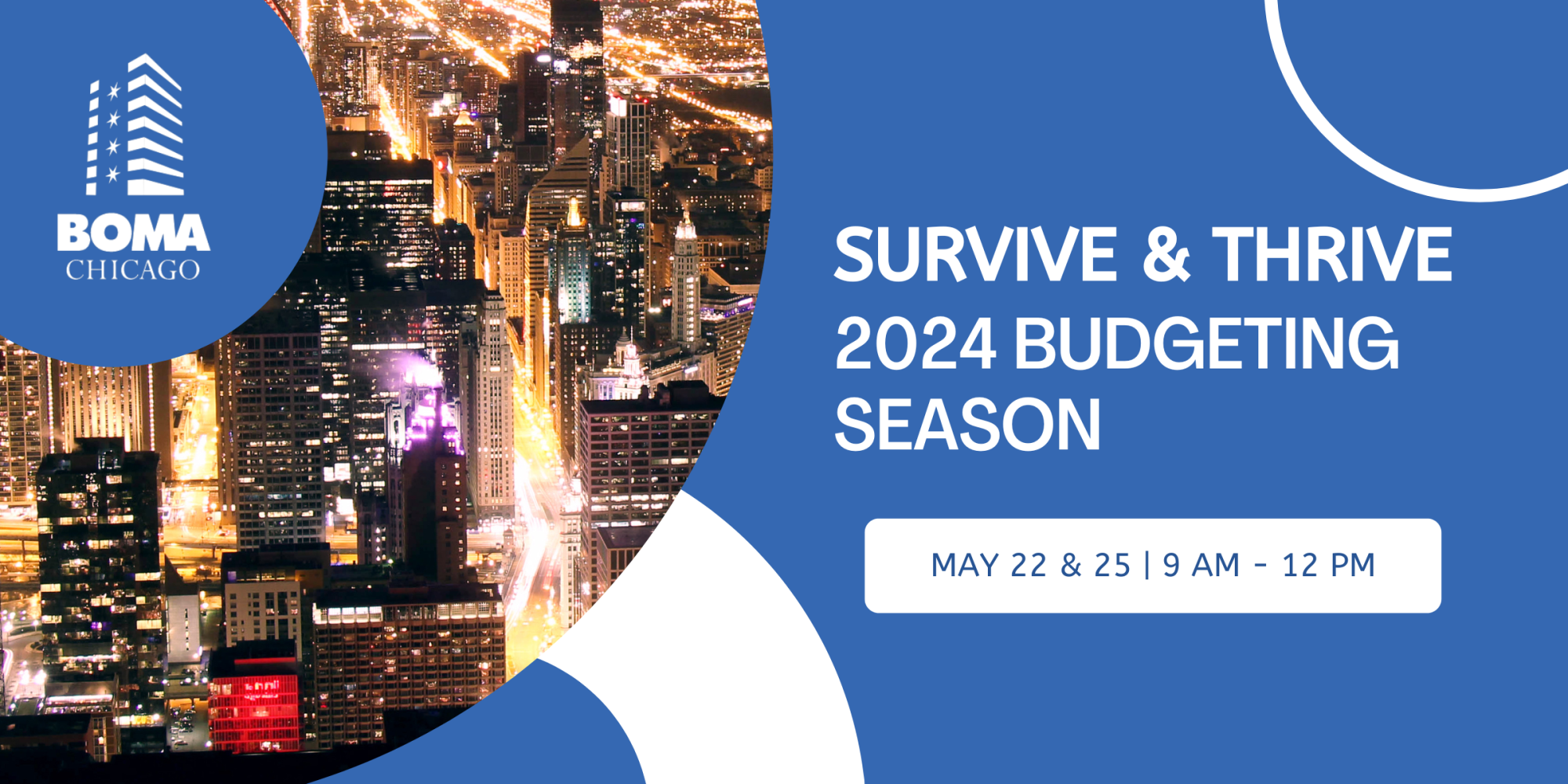 Survive & Thrive During Your 2024 Budgeting Season
Two-Part Virtual Class
May 22 and May 25 from 9AM to 12PM CST
Instructed by Marc Fischer, CPM, RPA, CCIM, LEED Green Associate & BOMA Fellow
This is a two-part class and you must register for both classes
$140 Members | $190 Non-Members

Do you want help as you start your 2024 budget? Join us for our 2024 budgeting season prep class – Survive & Thrive During Your 2024 Budgeting Season, which will be held virtually on May 22 & 25 from 9AM to 12PM.
Due to the popularity of this class in previous years, we have expanded the curriculum and added a second class with additional insights on how to create an accurate financial roadmap for your building. This class will teach you how to make precise predictions about your 2024 expenses and income, while also gaining valuable insights on how to integrate your owner's business strategy and long-term plans into your budget.
During this course, you will learn how to:
Create an accurate 2024 budget and a financial roadmap for your building
Accurately predict 2024 expenses and income
Incorporate your owner's business strategy and long-terms plans into the budget
Ensure your team takes a consistent approach with clearly stated budget assumptions
Create a budget and business plan that incorporates operating expenses, future income, gross ups, capital and non-operating expenses for 2024 and beyond.
We know that budgeting season is daunting. Your owners are looking for you to make accurate predictions of income and expenses while also ensuring your building increases in value. Furthermore, you must find ways to maintain and increase occupancy, keep tenants satisfied and navigate through a post-pandemic world. But, with the right tools and helpful insights, you can create a budget that will set you and your owners up for success.
Don't miss this course and the chance to get a head start on the 2024 budget preparation season!
This class counts as three CPD credits for RPA graduates. This class also counts as three credits toward the requirements for those pursuing the Certified Manager of Commercial Properties (CMCP).
Marc Fischer, CPM, RPA, CCIM, LEED Green Associate & BOMA Fellow
Marc Fischer is nationally recognized as an innovative and dynamic leader in the commercial real estate industry. For more than 30 years, he has successfully built and led large and diverse real estate organizations, and served some of the most selective institutional investors.
Marc founded InspiRE CRE in 2015 to provide a fresh approach to real estate management through thought leadership, innovation, hard work and the pursuit of excellence. Marc helps clients develop and execute solid real estate strategies in the areas of asset management, property and facilities management, construction management and advisory services. In addition, as an accomplished author, a sought-after speaker, and a talented instructor, Marc inspires others to become the best and brightest talent in the real estate industry.
In a complex world that is constantly changing, InspiRE is committed to helping investors in, and occupiers of, commercial real estate – to understand and navigate the intricacies of real estate decision making. InspiRE develops enduring client relationships built on quality service, collaboration, and trust, and we deliver integrated commercial real estate services that leverage our unique insight and foresight, sound market research, and relevant knowledge.
Pricing
Member: $140
Non-Member: $190
Virtual via Zoom

Monday, May 22, 2023 (9:00 AM - 12:00 PM) (CDT)
Class Dates: May 22 and 25

Instructor: Marc Fischer, CPM, RPA, CCIM, LEED Green Associate & BOMA Fellow
Categories
Course
Education