Webinar: Real Property Administrator (RPA): Learn About the RPA, Required Classes & More
Wednesday, March 29, 2023 (1:00 PM - 2:00 PM) (CDT)
Description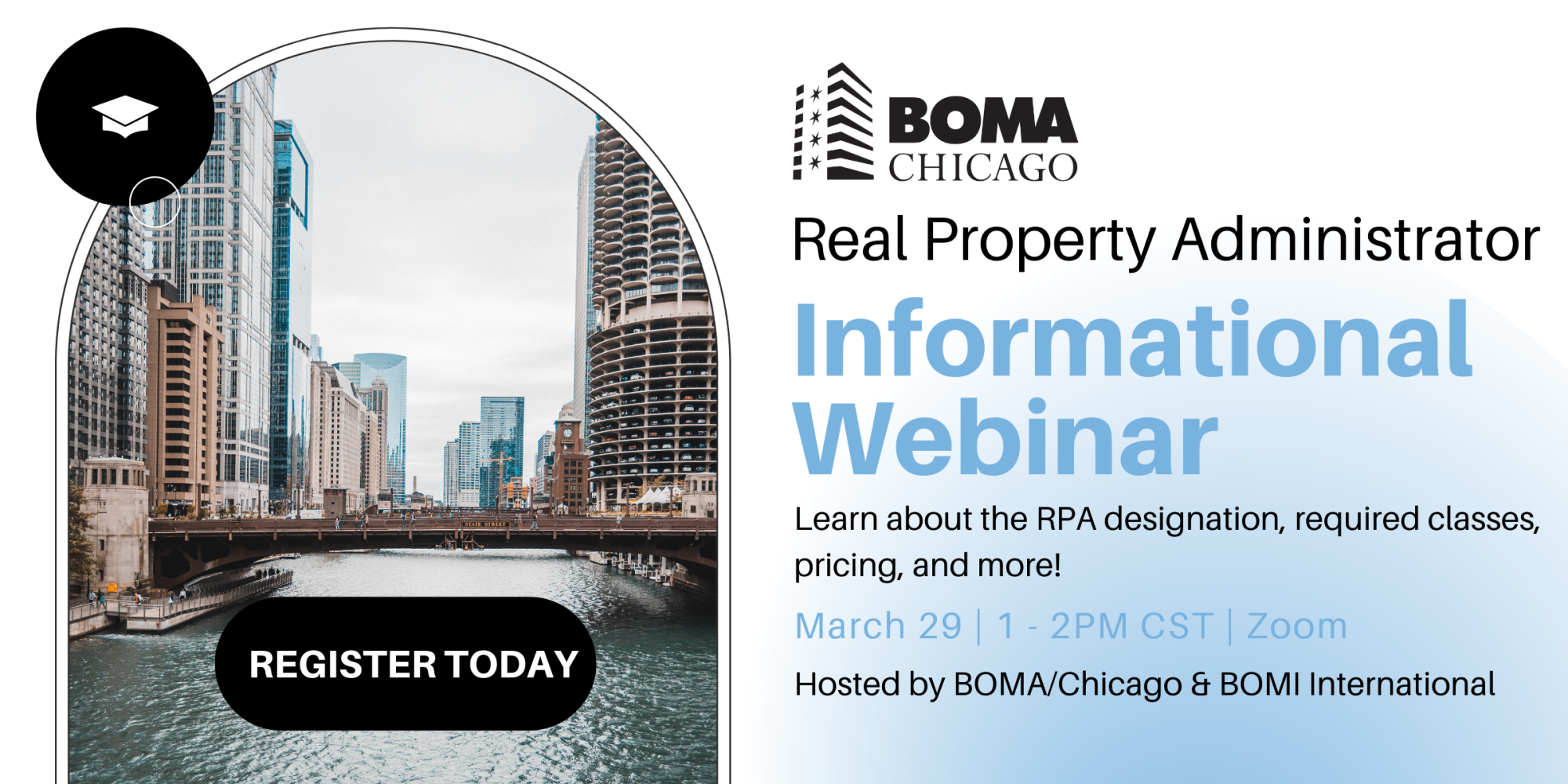 Real Property Administrator (RPA) Informational Webinar
Free Member Webinar
March 29 from 1PM to 2PM CST via Zoom
Hosted by BOMA/Chicago & BOMI International

Are you interested in earning the Real Property Administrator (RPA) designation? Or do you want to advance your career, but you are not sure where to start?
Join us for a free webinar on March 29 to learn about the RPA – including the eight required classes, pricing, the benefits of earning the designation, and more.
The RPA designation will teach you how to enhance the value of your building and also position you for success as a property manager. RPA class topics include building design and operations, ethics, environmental health and safety, budgeting and finance, marketing, leasing, and risk management.
RPA Fast Facts
97% of graduates say BOMI programs improved their job performance and overall career
RPAs earn more than twice the base salary of an average property managers salary*
Almost half of those receiving a promotion earned their promotion within a year of achieving their RPA
Almost two-thirds of those earning a raise received their raise within one year of achieving their RPA
More than half of RPAs hold senior management titles such as CEO, COO, President, Executive Vice President, Regional, Senior, or Director
*Based on the 2021 BOMI RPA graduate survey and 2021 Bureau of Labor Statistics report
Pricing
Free Members Only Webinar
Virtual via Zoom

Wednesday, March 29, 2023 (1:00 PM - 2:00 PM) (CDT)
Hosted by BOMA/Chicago & BOMI International
Sponsorship Opportunities
Set the stage for your own successful business development strategy as a BOMA/Chicago sponsor. Offering a variety of social and networking events each year, BOMA/Chicago gatherings truly embody one of our greatest strengths: the strong sense of community and collaboration between our Building and Affiliate Members. Learn more by downloading our 2022 BOMA/Chicago Sponsorship Prospectus.